Product Tour
Probably the most powerful, yet intuitive and easy to use Website Builder Ever!
Try an online demo - set up in seconds, no credit card required.
Easy & intuitive from step one.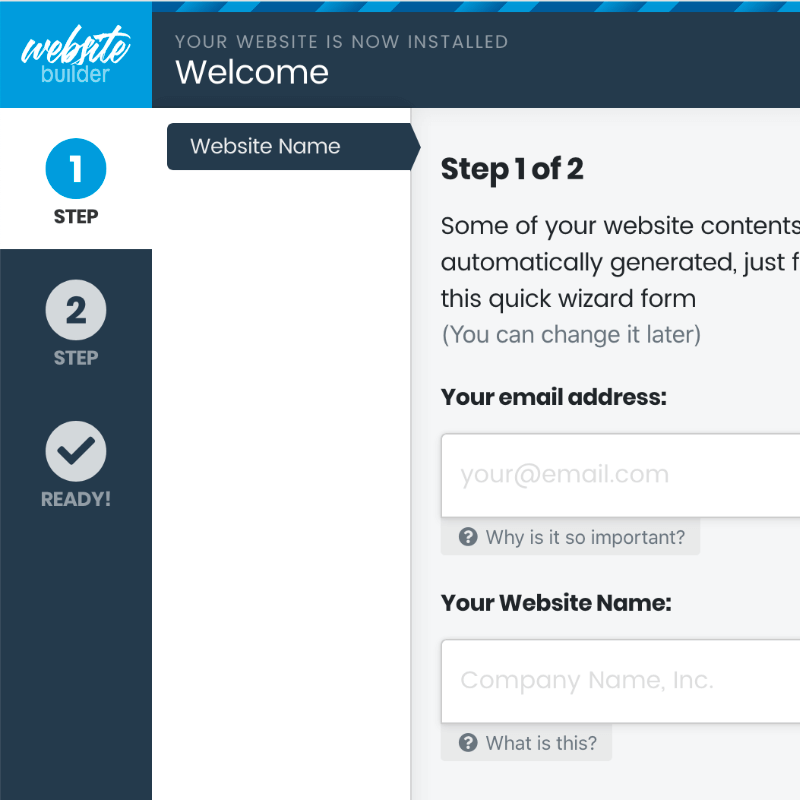 Website Setup
Installation is automated, when your Webbie website is installed you'll be asked for few details, like email address, website name and company details - your new website will use this data to create base subpages that just fit your needs out of the box: a contact page, privacy policy and more!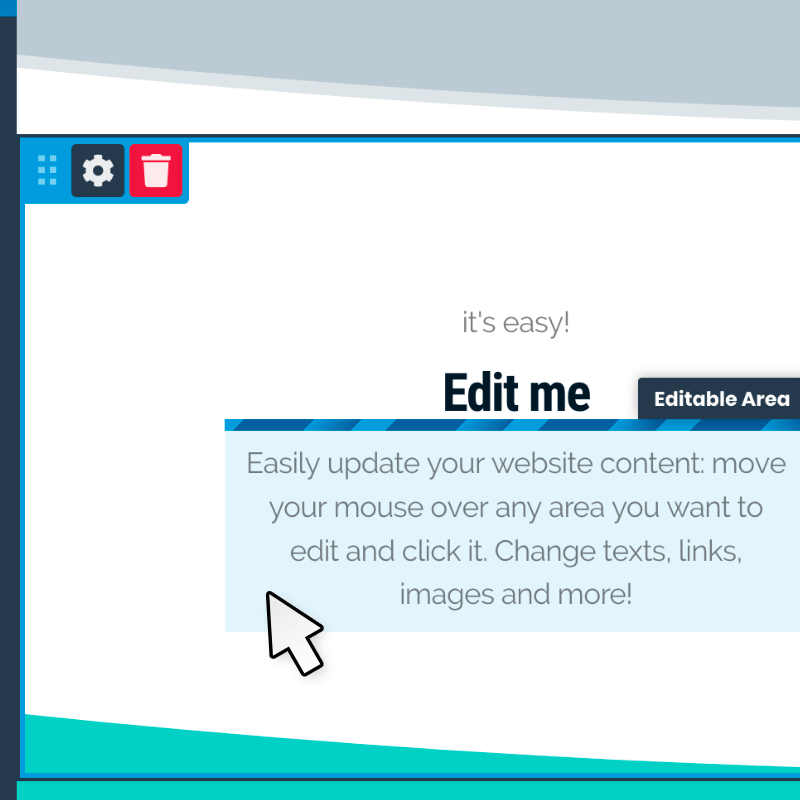 Point & Click
Most of your website elements are editable. Just move your mouse over the area you want to change and click to start editing: text, image. videos or an app like Gallery or Shop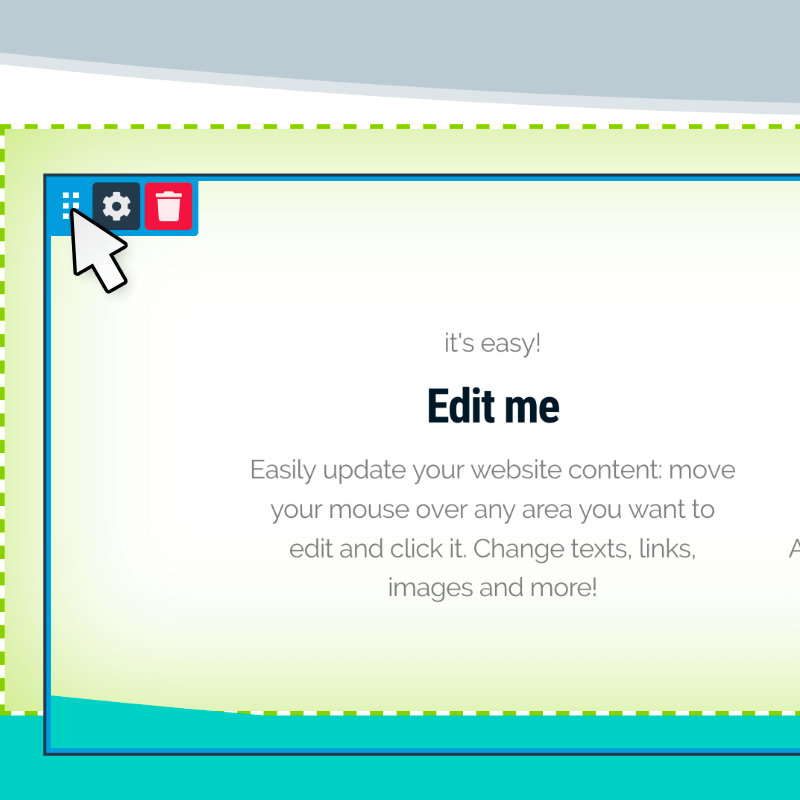 Drag & Drop
Website contents are organized into "content blocks", you can add pre-made content blocks to your pages, edit them easily and re-arrange them by dragging and dropping them to new places on your pages.
Professional-look, responsive websites

Webbie builds websites with Bootstrap Framework, the most popular HTML, CSS, and JS framework for developing responsive, mobile-first projects on the web.
Organized Drag & Drop
Most of the website contents can be easily arranged with drag & drop, but not in a wild way where everything breaks when your viewing device is changed: it's organized in a way with predefined areas and modules, to offer a professional-looking final-effect on any screen large or small.
Yes, we even used Webbie to build our own website
We think this is important because we know many others that don't use what they sell. We're proud of our service, support and wonderful website creation tools.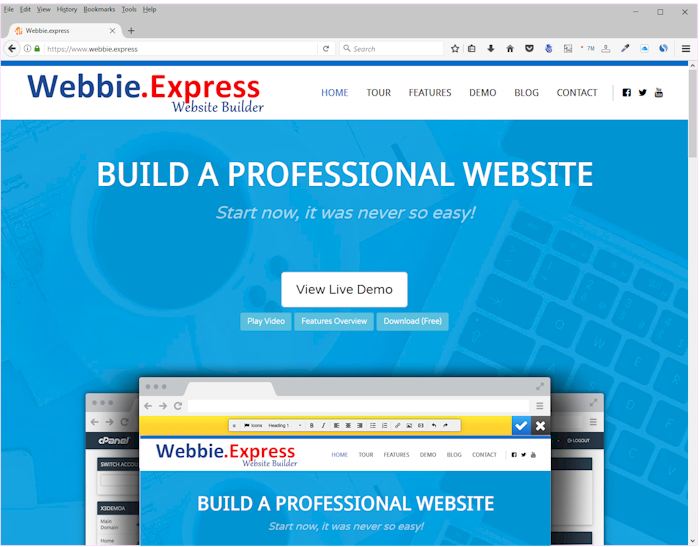 Easy to Use
As simple as needed to keep it intuitive
We provide help videos, just in case you are a visual learner like we are. Monkey see - monkey do. If someone shows me in a few minutes what would have taken me hours to understand then everyone wins. You have control over most of your website's features right in the palm of your hand. Move your mouse over the page element you want to change and change it. It's that simple!
Powerful
Thousands of possible customizations
Webbie is not only easy & super-customizable, it's powerful for power users, easily add content blocks of custom HTML, JavaScript and CSS code. A unique feature is the "Include PHP" option, where PHP code can be added to any page content, so websites can be easily connected to existing databases or forms.
Simply Works
So you don't have to worry
You don't have to worry about databases: our websites don't use them. You don't have to worry about user support: it's included in each user's website, There's also no way to lose your password: each user can access their website admin area directly from our billing system without remembering their password.
Easy, Intuitive and... Powerful
Probably the most powerful and easy to use website builder, see our full list of features:
Why start again using Webbie's Sitebuilder?
Did you know more users are looking for "websites" than for "web hosting"?
You don't need a web hosting account with dozens of confusing techie features you don't understand: you just need a great website that works! We provide that every day. You will love it.
Speed is everything!
Your website has to be very fast - the general public's attention span is less than 10-20 seconds per page delivery. Our website pages are delivered in 1-5 seconds. Most bloatware sites using tools like Wordpress, Joomla, Drupal and others are very slow and they slow down even more as you add content. They all use mySQL databases and millions of lines of code per site. Webbie doesn't do that. Our sitebuilder uses the latest in Bootstrap coding and our sitebuilder tools are on our server - not on your website's server. Your website only has what was generated - not what it needs to generate the content. The result is speed.
Attract new clients
You need your website to look good, you need it to automatically get added to Google's search engine, you need visitors to read and experience your professional presentation. You need to start by selecting one of our professionally designed templates and simply change the words and pictures to convey your message.
Your Clients will love it!
Your website will be intuitive, easy to use and powerful.
Webbie helps you build beautiful websites!
Webbie is Available to try for FREE
There's no risk for you, try it without having to install anything. Upgrade to Basic, PRO or Ecommerce plans when you are ready!
Webbie Sitebuilder: It's Easy, Intuitive and Powerful
Live On-Site Editor with Drag & Drop
QUICK VIDEO PREVIEW
Website Building in less than 2 minutes:


Live Editor, Drag & Drop.
Live, on-site editor: see changes as you type. Drag & Drop provides a better user experience; subpages are arranged easily in a menu tree, photos in a gallery, items in form builder, answers in voting poll and content area elements: text blocks and modules!


There's no "Publish Button": all changes you save are available in public immediately, there's no confusing draft copy of your pages or annoying reminders to publish it.
It's easy and powerful
There's no easier content management system than Webbie, which could offer as much. Subpage contents are separated from your chosen template, so you can change your template at any time and still keep your data. One change on your template will appear on all subpages immediately.

Each website comes with built-in modules, like Blog, Photo Gallery, Voting Poll, Contact Form or more advanced Forms Builder, Shopping Cart, Newsletter and more to fit most of your needs when you begin your website building adventure.
Ready for a Revolution?
Get started with Webbie, try our demo for free or simply Get Started!