Webbie vs Wordpress
From features to SEO, both of these popular website builders have important differences.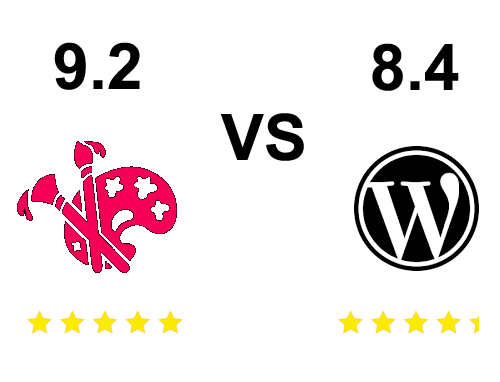 Webbie vs Wordpress
Webbie.Express and WordPress have significant differences, ranging from their features to SEO capabilities. In this comparison, we'll explore the key distinctions between these website platforms to help you make the right choice for your needs.
A fair comparison
Webbie.Express offers an intuitive drag-and-drop website builder, making website creation a breeze without the need for coding skills. Free Web Hosting, SSL certificates, and advanced features are all handled by Webbie.Express, ensuring a seamless non-techie start.

With many designer-made templates and easy customization options, Webbie.Express empowers users to create beautiful websites quickly.

Webbie.Express websites are built by adding beautiful content blocks to pages in a visual WYSIWYG (drag and drop) editor. Everyday objects such as text, photo galleries, contact forms and more are available to add to pre-designed templates. You can then customize it to suit your needs, using simple settings panels per object that are easy to understand and use.

Webbie.Express's built-in SEO capabilities optimize your site for search engines, boosting organic traffic with features like bulk 301 redirects, instant homepage indexing, and Google Business Profile integration.

Webbie.Express provides enterprise-grade infrastructure, ensuring your site's scalability and performance. With cloud hosting and global CDNs, Webbie.Express sites can handle billions of daily requests. In comparison,




All Webbie.express web pages come up in less than 2 seconds. WordPress pages can take 5-30 seconds per page to show up. Nowadays, anything longer than 3 seconds is too long in this quick scrolling attention scan world.




Webbie.Express offers exceptional support through its extensive Help Center, video tutorials, email, phone support, and YouTube channel. One of the best references to our ability to properly support you is the simple fact that we hardly every geta support call for any reason because it just works!

Webbie.Express's pricing includes all free premium options with access to templates, unlimited pages without any install hassles, free web hosting and a domain name. There are no extra fees as we include everything.

Webbie.Express simplifies the website-building process, taking care of system updates, backups, and security alerts.

Webbie.Express is an all-in-one website-building platform with an intuitive drag-and-drop builder. It also offers various niche-specific templates and allows users to create different types of websites, from blogs to online stores.

Webbie.Express is hacker-proof because your website is published without any hackable files and prevents all hackers from checking out the tools and code that make up your website. We already provide all the optional Apps you might need at no extra cost.
Webbie.Express allows you to put up a professional looking website in less than an hour which would include adding your words and changing any pictures that exist in our premade blocks. You never have to do Webbie.Express upgrades - we do them automatically for you.
On the other hand, WordPress is an open-source CMS, requiring many more setup steps, such as purchasing a domain and web hosting, installing WordPress, and configuring it before you can even start building a blog or website.
In contrast, WordPress requires some HTML/CSS knowledge for theme customization, which will be quite challenging for those without coding skills. WordPress is never easy once you dive right in and want to customize it more. You will find that WordPress's confusing configuration settings constantly force you to choose between blog features and page features as you create your core website settings. WordPress does not provide any prebuilt blocks to help you quickly create a new page.

WordPress is also SEO-friendly, but it requires some technical configuration for optimal results, and it offers various SEO plugins for further customization that may cost you extra.

WordPress scalability depends on the chosen web host and the technical configuration done by the user. with almost everything at an extra cost that quickly raises the real cost of a WordPress site.

WordPress sites always seem to be too very slow - especially when you start adding their bloated plugins to your website to get all the techie things done that are automatically adjusted as part of Webbie.express.
In contrast, WordPress relies on user forums and a large webmasters community for support, which may vary in availability and expertise. WordPress is difficult to learn and manage - while Webbie.express is a breeze to use - everything is straightforward.

With WordPress, you need to purchase a domain and web hosting separately, and costs will vary depending on the chosen theme and plugin extensions. You will be surprised by all the extra cost options.

On the other hand, WordPress requires more effort and maintenance, especially if customization and plugin extensions are needed.

WordPress, as open-source software, must be installed on a web hosting server and requires domain and hosting purchases. WordPress Users can extend their functionality with plugins and themes but must be cautious about plugin selection because there are over 60,000 WordPress plugin extensions and many of them are constantly hacked, which means that by installing any one, you could get hacked even before you get started. It's like playing Russian Roulette. That won't happen with Webbie.express.

WordPress will take days to do what Webbie.Express can do in minutes. If you already have a WordPress website you already know how much you have to do to keep up with WordPress updates that come almost weekly. WordPress is simply too much work and confusing to be worth your time and worry.
Give Webbie.Express a try if you haven't already. You'll be pleasantly surprised how easy it is to edit a page or rearrange the blocks on a page. Test Drives are Free - Take One Today!!!